First watch the video of me talking about the music:
and then watch the music video
The music video is of 2 incredible musicians from India performing at the Crossroads Festival in Krakow, Poland.
Zakir Hussain, playing tabla (Indian drum)
Rakesh Chaurasia, playing bansuri (Indian wooden flute)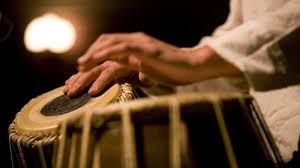 During my video I held up a piece of paper with some important moments that you can jump to
...but maybe you can listen through the whole of the 52 minutes? It is a spectacular music voyage!
Here are those moments:
 0:00  -  1:50   the musicians are preparing
 1:50                bansuri solo
 8:30                the tabla enters
27:57               the musicians 'break' ie. they arrive at an important moment in the music perfectly                                      together. The crowd loves this! and so do the musicians, but they keep going.
31:29               another spectacular arrival or  'break' in the music
36.30               tabla solo
45.00 - 47:00   absolutely amazing fast tabla playing
47:38               I'll leave you to describe this moment!
50:00               playful imitation of the bansuri by the tabla
52:20               the music voyage ends.
...and I want to correct my pronunciation of Rakesh Chaurasia's last name. In the video I say Chausaria.